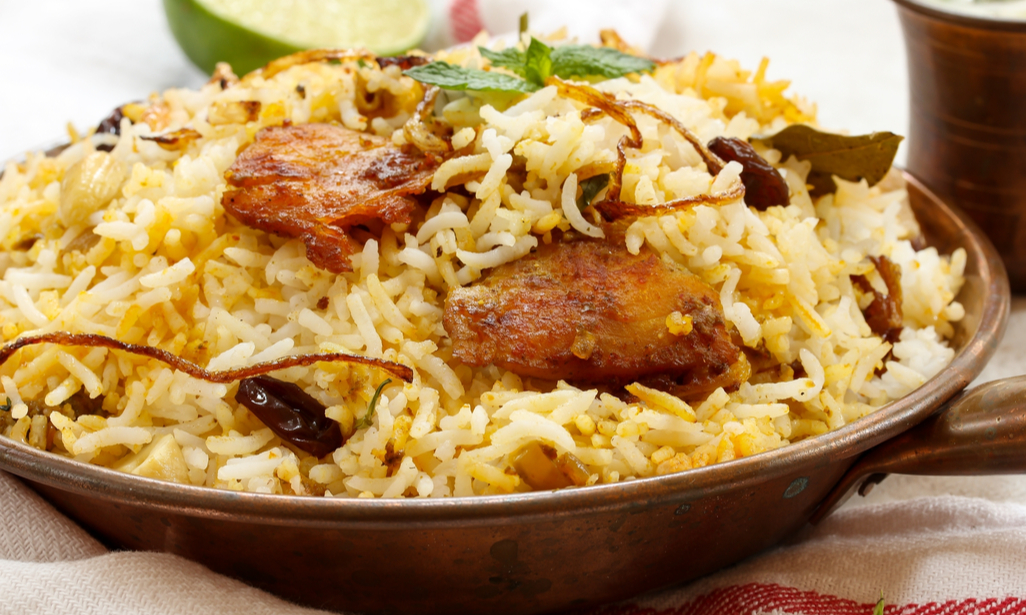 Hyderabadi Mutton Biryani
Preparation Method
Boil six cup of water along with bay leaf, three cardamom, eight pepper, one piece of cinnamon and salt.
Par boil rice and drain the water.
Chop the onions, lengthwise finely.
Heat a pan with Idhayam Sesame Oil.
Saute half of the chopped onions till golden brown and drain it on a tissue paper.
Pound together pepper, one piece cinnamon, pepper, two cardamom, cumin seed and three cloves.
Mix together milk and saffron.
Marinate the mutton with ground ginger and garlic, one tablespoon of coriander leaves, one tablespoon of mint, chilli powder, pound spices, salt and half of the fried onion.
Refrigerate for two hours.
Heat another pan with two tablespoons of ghee.
Temper cinnamon, cardamom, black cardamom, cloves and fry well.
Saute rest of the onion.
Add the marinated mutton and stir well.
Simmer to a low flame and cook the mutton. Remove from fire keep aside.
Grease a heavy bottomed pan with ghee, spread half of the cooked rice.
Spread the cooked mutton, coriander leaves and mint leaves.
Above this spread rest of the rice, the saffron milk and heat in low flame, until the rice and the mutton is cooked completely.