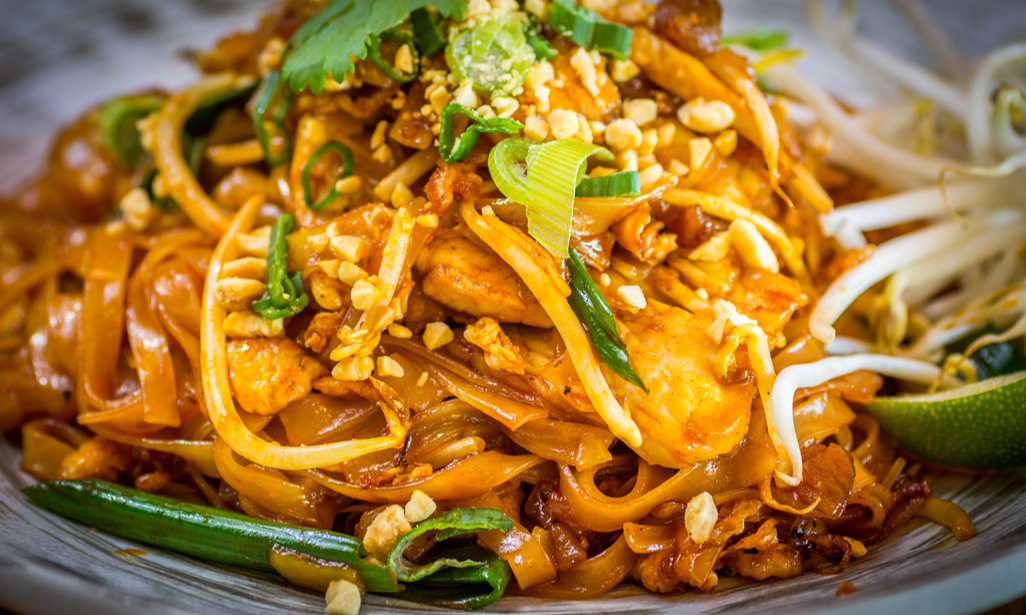 Pad Thai Chicken
Preparation Method
Boil water and remove from fire.
Add the rice noodles, close with a lid and let it for fifteen minutes.
Dice paneer or tofu.
Chop the onions and  garlic finely.
Chop the chicken into strips.
Pound the fried peanuts coarsely.
Soak the tamarind and extract juice.
Chop the leafy part of the spring onion to one inch long.
Heat a pan with two tablespoon of Idhayam Sesame Oil.
Fry the paneer or tofu slightly.
Take three - four pieces of the paneer or tofu and keep aside.
Heat another pan with Idhayam Sesame Oil.
Saute shallot and garlic.
Add the chicken pieces, simmer to a low flame and fry.
When the chicken is done and the masala is fried well, add the cooked rice noodles and stir.
To this add the pound jaggery and fish sauce.
Crack the eggs  to the noodles and stir well.
Add chilli flakes and pound ground nuts, fried paneer or tofu and mix well.
Remove from fire when everything blends together.
Garnish with paneer or tofu and cucumber and serve.
You Might Also Like
Choose Your Favorite Thai Recipes